There were some very beautiful cars made in the 50s and they deserve an entire page on this website. I must admit, I got a little carried away by the Edsel information I found. To begin with, here is what Wikipedia has to say about the Edsel.
FORD EDSEL
Pat Feeney's dad owned a car lot and I carpooled with her. A few times she showed up in an Edsel, so I went on a quest to find out more about the car and here is what I found.
In 1956, Ford Motor Company realized that there was a void in their selections of mid-size automobiles. GM could keep Chevrolet owners in their fold by offering a path of advancement to Pontiac, Oldsmobile, Buick and Cadillac, while the Plymouth owner could move up to Dodge, De Soto, Chrysler and Imperial. But Ford buyers were looking at Mercury, Lincoln and Continental. Ford needed a new car line between Ford and Mercury and thus, planned an entirely new car division and an entirely new car. The design was to be completely unique – distinguishable from any angle.
The 1958 Edsel came in two sizes, actually two distinctly different designs. The "Senior" series cars are Citation and Corsair models, built on the large Mercury-based frame. The "Junior" series cars are Rangers, Pacers and the station wagons, Bermuda, Villager and Roundup, built on the smaller Ford-based frame.
One talked-about feature was the "Teletouch" shifter, which controlled the automatic transmission selection electronically from push buttons in the center of the steering wheel hub. (A series of planetary gears in the column kept the buttons stationary as the wheel turns.) Many other Edsel-original ideas are still found on today's cars.
The car was referred to as the "E" car (for Experimental) from its inception.  The Edsel was named after Henry Ford's son, no small honor, and it had its own division of the company devoted to its creation. As TIME reported in 1957 when the car debuted, the company had spent 10 years and $250 million on planning one of its first brand-new cars in decades. The name was selected after reviewing a list of nearly 8,000 suggestions from their advertising firm, Ford employees, and even renowned poet Marianne Moore whose ideas turned out to be ridiculous.  Here is an article about her suggestions.
Some of the better suggestions include:
The Intelligent Whale
Mongoose Civique
Pluma Piluma
Anticipator
Regna Racer
The Silver Sword
Dearborn
Pastelogram
Magigravure
Utopian Turtletop
Turcotinga
Varsity Stroke
Fée Rapide
Bullett Lavolta
After a massive promotional campaign, which included multi-page "teaser" ads in major national magazines, some 2.5 million Americans poured into Edsel dealerships on "E-Day," September 4, 1957.  But it was quickly apparent that few cars were actually being sold.  The public expectation was much higher than the car could live up to and sales reflected the disappointment.
The name "Edsel" quickly became synonymous with "failure" even though many factors were involved. By the time the first Edsel hit the showroom, the country was in a recession. 1958 was probably the worst year since World War II to unveil a new car line. Car-buying habits had turned toward smaller and more fuel-efficient cars.  Edsel's styling was radical, and not to everyone's liking. 
On the assembly line, Edsel was run between Fords or Mercurys, causing the assembler to have to interrupt his routine and sometimes forget to install some parts.  Other parts wouldn't fit together correctly. Because of problems with suppliers, many of the early cars arrived at dealerships with parts missing.  There was a long list of options buyers could select. Some cars arrived at the dealership with the extra parts in the trunk. Many dealers were poorly equipped to replace the parts or add-on accessories.  The Edsel was more expensive than other comparable cars, and the price of the loaded, top-of-the-line models that were first on the showroom floor scared many buyers.  There was no owner loyalty to count on.  And, finally, it had a strange name no one could relate to.
As more cars failed to sell, more dealers dropped their Edsel franchise. The more dealers that folded, the more the public was afraid to buy the car. After three model years and just 110,847 Edsels later, Ford Motor Company threw in the towel. Today less than 6,000 Edsels survive, and each one is a cherished classic. The 1958 Edsel advertising said it best – "Once you've seen it, you'll never forget it. Once you've owned it, you'll never want to change."
---
1958 Edsel Facts
Chief Designer: Roy A. Brown, Jr. Just before starting work on the Edsel, Mr. Brown completed the 1955 Lincoln "Futura" show car, which went on to become the "Batmobile" in the 1966 television series "Batman."
The official first day of Edsel production was July 15, 1957.
1958 Edsel U.S. Manufacturing Plants (with dataplate code):
J – Los Angeles, CA (Citations and Corsairs)
S – Somerville, MA (Citations and Corsairs)
W – Wayne, MI (Citations and Corsairs)
E – Mahwah, NJ (6,200 Rangers, Pacers and wagons)
R – San Jose, CA (5,500 Rangers, Pacers and wagons)
U – Louisville, KY (33,000 Rangers, Pacers and wagons) – Louisville was still producing 1958 Edsels as late as August 29, 1958!
First year sales were projected to reach 200,000, but total production for all 1958 models was 63,107 units.
Unique Features
Slow beginning, but good demo of the Edsel's classic details on a restored 1958 Ford Edsel.
Specialty Edsels.
(Pretty sure none of you ever knew about these.)
The complete story of the Ford Edsel.
1959 Ford Edsel TV commercial. (The music and voice will remind you of the 50's.)
The most collectible 1960 Edsel model was the convertible which sold for $3,800. Only 76 models were produced for the consumer market making this the most popular of the 1960 Edsels among auto history enthusiasts.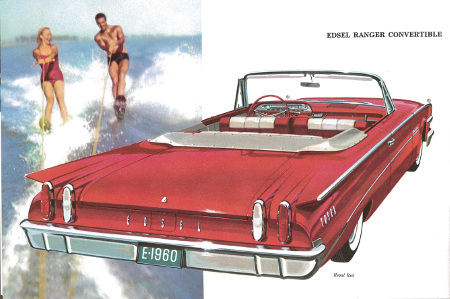 Controversy over the Edsel began before it was introduced to the public in Sept. of 1957. For many auto historians, the Edsel is looked upon as a failure. Consumers did not like the horse collar grille, the boomerang shape tail lamps, or two-tone scalloped body side design.
Exterior Colors
The 1958 Paint Codes are listed on each car's data plate in sets of three: the first is the main body color, the second is the roof color, and third is the rear scallop color (except for Citations and Corsairs built in Los Angeles, which have no scallop color listed in their color codes.) For convertibles, most Edsel color codes have a space in the middle position to indicate no paint. Citation convertibles built in Wayne, MI have the middle code set to the main body color code.
*A dozen Roundups were set aside as Edsel Service vehicles, and painted Edsel green and white. These were given paint code "SSS." At least one early Pacer was found to have a paint code of "P" – primer!
Two-Tone
The two-tone paint option had either the body, roof or scallop painted a different color than the other sections.
Black with Red, Coral, Copper, Gold, White or Yellow
Silver with Red, Coral, White or Yellow
Red with Black, Gray or White
Turquoise with White
White with any color except Yellow
Powder Blue with White or Royal Blue
Horizon Blue with White
Royal Blue with White or Powder Blue
Ice Green with White or Spruce Green
Spring Green with White or Driftwood
Spruce Green with White or Ice Green
Brown with White, Driftwood or Yellow
Driftwood with White, Spring Green, Brown or Yellow
Yellow with Black, Gray, Brown, Driftwood or Coral
Coral with Black, Gray, White or Yellow
Chalk Pink with White or Brown
Copper with Black or White
Gold with Black or White
Exceptions by model:
Black/Red, Black/Yellow, Black/Coral, Gray/White, Gray/Yellow, Gray/Red, Gray/Coral, Blue/Blue, Green/Green, Yellow/Coral were not available on Bermuda.
Black/Coppper and Black/Gold were only available on Citation and Corsair.
Turquoise/White was not available on Villager/Roundup wagons or Ranger/Pacer sedans.
Gray/Red was not available on Bermuda or Pacer sedans.
Coral/White was only available on Bermuda and Pacer sedans.
Brown/Yellow was not available on Bermuda or Pacer convertibles.
Tri-Tone Options
Pacer hardtop
CAE – Red body, Black roof, White scallop
DAE – Turquoise body, Black roof, White scallop
QER – Yellow body, White roof, Coral scallop (Discontinued in 1957)
RAE – Coral body, Black roof, White scallop
Citation and Corsair hardtops
CEB – Red body, White roof, Silver scallop
DAE – Turquoise body, White roof, Black scallop
UAE – Copper body, Black roof, White scallop
XEA – Gold body, White roof, Black scallop
TEM – Pink body, White roof, Brown scallop (Not available on Corsair)
Other Unique Cars from the 50's
More information on current activities of Edsel owners and fanatics. www.edsel.com